Neoprene Tote Bags: Watertight Not Copyright
In the recent judgment State of Escape Accessories Pty Limited v Schwartz [2020] FCA 1606, Justice Davies of the Federal Court of Australia found a fashionable neoprene tote bag was not a "work of artistic craftsmanship" and therefore not an "artistic work" for the purposes of the Copyright Act 1968 (Cth) (the Act). Since the Court found that copyright did not subsist in the State of Escape bag (the Escape Bag), there was no finding of copyright infringement.
If the Court had found that the Escape Bag was a work of artistic craftsmanship then State of Escape, as the owner of the copyright work, would have had the exclusive right to reproduce that work in a material form. State of Escape relied alternatively on two forms of the Escape Bag, pictured below.

The alleged copyright infringement
State of Escape claimed that the respondents, Ms Schwartz and her company (Chuchka) had infringed copyright in the Escape Bag by doing various acts in relation to 34 neoprene tote bags with rope handles (the Chuchka Bags). Examples of the Chuchka Bags are pictured below and denoted "infringing". Chuchka based its designs on photos of the Escape Bag taken from the website of Chuchka's manufacturer (Happy Sport).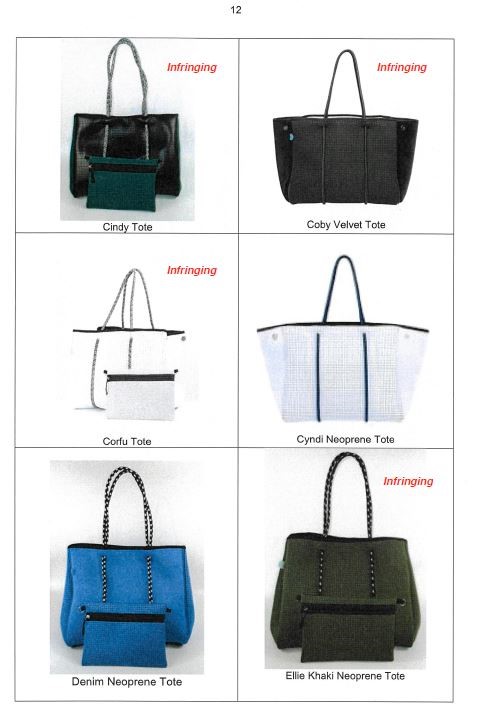 No copyright in the Escape Bag
Justice Davies found that copyright did not subsist in the Escape Bag as it was not "a work of artistic craftsmanship" constituting an "artistic work" as required for copyright protection under the Act.
To determine whether the Escape Bag was a work of artistic craftsmanship, Justice Davies considered the extent to which the Escape Bag's artistic expression, in its form, was unconstrained by functional considerations. Applying the principles set out in Burge v Swarbrick [2007] HCA 17, Justice Davies found only the use of perforated neoprene by the designer of the Escape Bag, Ms MacGowan, was "governed by considerations of appearance and aesthetics" and that otherwise the Escape Bag design was "constrained by functional limitations", namely choices such as the sailing rope handles and their arrangement were not "merely matters of visual and aesthetic appeal but also, critically, resolved functional issues". The use and combination of readily available commercial materials was "an evolution of styling" at most. Further, Ms MacGowan did not approach the design as an artist-craftsperson and she had no special training, skill and knowledge and primarily responded to functional issues.
Justice Davies was not influenced by Ms MacGowan's aspirations or intention when creating the Escape Bag, its beauty or aesthetic appeal, or any of its distinctive features.
What would have been
Justice Davies found the infringement claims would have been successful if copyright subsisted in the Escape Bag, and that Chucka would not be protected by the innocent infringement defence, because:
Chuchka was aware of the State of Escape brand and its branding on the Escape Bag image;
Chuchka did not inquire whether it could use those images as a basis for its design (and should not have assumed it could do so); and
importantly, Chuchka had no prior business dealings with or knowledge about Happy Sport and therefore no basis to assume it was reputable (in contrast to The Dempsey Group Pty Ltd v Spotlight Pty Ltd [2018] FCA 2016 where Justice Davies found the innocent infringement defence was made out because of the prior relationship and trust between a designer and their supplier/ manufacturer).
Despite Chuchka continuing to sell the Chuchka Bag after State of Escape flagged the alleged copyright infringement, Justice Davies found additional damages would not have been awarded because of the uncertainty around whether or not copyright subsisted in the Escape Bag.
Australian Consumer Law and passing off claims
Justice Davies found Chuchka had made misleading promotional representations (eg "classic neoprene tote") in contravention of the Australian Consumer Law and that declaratory relief and damages were appropriate. Ms Schwartz was also found to have accessorial liability in respect of the misleading conduct. The form and quantum of that relief is yet to be determined.
However State of Escape's similarity of appearance and passing off claims were not made out because:
State of Escape did not have a reputation corresponding to the Escape Bag's features;
the Chuchka Bag was clearly labelled with the "Chuchka" word mark, and that mark and the logo mark were used in connection with its bags sold via various trade channels;
neither the Escape Bag and the Chuchka Bag were impulse or casual buys; and
there was no evidence of actual confusion.
Justice Davies found Ms Schwartz (director of Chuchka) would have been liable as an accessory to Chuchka's similarity of appearance representation infringement (if it was established) but would not have been liable for the copyright or passing off infringements merely for causing or directing Chuchka to engage in the alleged acts.
Key takeaways
Designers need to be aware that:
it is going to be difficult to prove that articles like bags are "works of artistic craftsmanship" where functional considerations dictate the design, or key parts of the design;
importers are unlikely to make out the "innocent infringement" defence where they just assume that a previously unknown manufacturer or supplier is reputable and the importers don't make any inquiries about designs offered by the manufacturer/supplier; and
designers should register their original designs under the Designs Act 2003 (Cth) prior to disclosing the design publicly. Generally speaking, having a registered and certified design is a more straightforward approach to combatting copycats than trying to argue that the article is a work of "artistic craftsmanship" under the Act. Presumably, State of Escape did not have a registered design for the Escape Bag.